---
Ductile Iron Dual Plate Full Lug Type With Full Rubber Check Valve
TC10-DI
Full lug with full rubber design dual plate check valve is a shorter face-to-face dimension and dual plate design. Versus conventional swing check valves, the series valve have the advantages of no leakage toward outside, cost saving, any installation position, seal performance, minimal line shock, lower pressure loss and zero seat leakage.
Full Lug type dual plate check valve is suitable for the environment where the space is small, because the flange hole has tapping
Full lug with full rubber design dual plate check valve design offers the twin advantages of No Water Hammer and Non Slam simultaneously.
All features put together make the full lug type dual plate check valve with full rubber one of the most efficient design.
DI Solid Lug type with fully lined dual check valve
Lug type valves are provided with threaded bolting holes in accordance with API 594,ASTM,JIS,ISO.
Lug type has its own tapped holes which allow the bolts to be threaded into it from both sides. This allows the dismantling of any side of the piping system without removal of the duo check valve in addition to keeping the service on the other side.
Features
Full Lug Lining design, mount between flanges by bolt which through disc and body.
Specification
Size: 2" ~ 60" (DN50 - DN1500)
Pressure Rating For ASME: 125# ~ 600# Suit For ASME / MSS / API Flange
Pressure Rating For ISO: PN10 ~ PN40 Suit For ISO Flange
Pressure Rating For JIS: 5K ~ 20K Suit For JIS Flange
Material:CI,DI,WCB,CF8,CF8M,ALBC3,A8904A(MOQ)
Designed in accordance with API 594.
End Connection: Wafer (TC1), Lugged (TC7), Flanged (TC4)
(Other flange connection please contact Taiwan Valves Centre Co., Ltd.)
*Technical information is only for reference. Taiwan Valves Centre Co., Ltd. reserves the right to change without previous notice.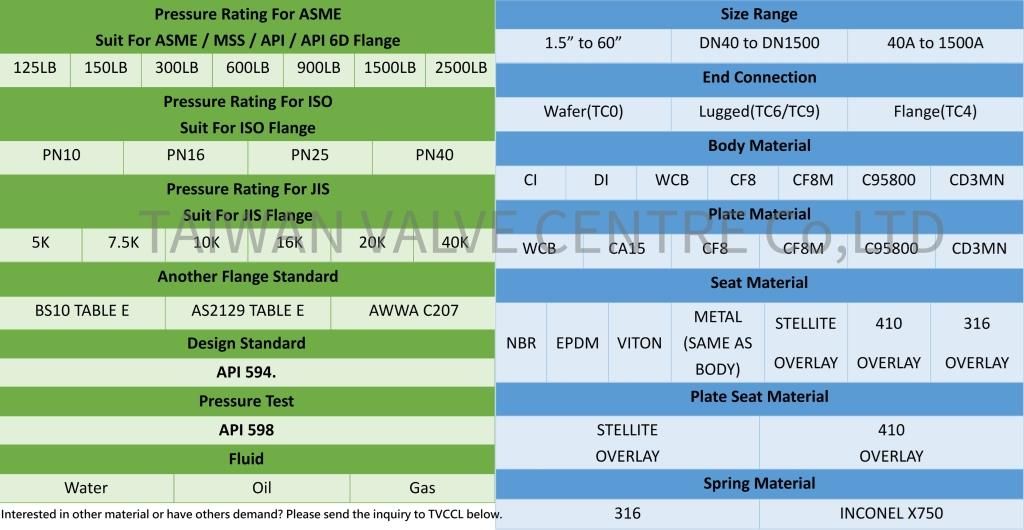 Applications
Soild Lug with full lining type check valve is suitable for sea water, cooling water..ext. Used in Ship Building, seawater desalination, seawater cooling system.
Dual plate Full Lug type check valve is suitable for high temperature and high pressure environment, like Petrochemical, Refinery or power plant.
Applied in Water Supply Systems, Fire Water Systems, Cooling Water, Chilled / Hot Water Systems, Boiler Feed Water, Sea Water, Potable Water, Raw Water etc.
Suitable for gas, like LPG, LNG, Sour Gas Low Temperature, Cryogenic Applications
Used in pharmaceutical, Power and other industries
Solid lug type dual check valve can use for liquids and gasses in general services, on-/offshore applications, etc.
In Nuclear Industry, Dual Check Valve used for feed water control system, make-up water or other.
Also use in steam, oil, nitric acid, acetic acid, strong oxidizing medium and urea, different medium should chose different material.
Full rubber type check valve suitable for seawater, water, cooling water pipeline and…etc.
The full rubber lined usually used in shipyard, ship plant, seawater desalination, seawater-cooling system.
The rubber separate medium and the valve of body in order not to contact directly. The full lining type check valve can be used for high concentration brine or acidic medium.
Full lining type check valve widely applied for water conservancy facilities, sewage treatment plants, and industrial or residential construction industries.
Dual plate wafer type check valve with full rubber can suitable for pump, sewerage, and reservoir flood control, etc.
Used in waterproof systems, discharge system, pump, etc.
More Knowledge about TVCCL valve:
TVCCL full rubber type check valve's material is divided into two choices, NBR and EPDM. Before use, you must pay attention to the temperature of the medium and whether there is a granular object in the medium. Because the rubber can't afford the high temperature and low temperature as well, it is recommended to use it at normal room temperature to avoid the rubber falling off or deforming; and owing to the rubber is unbearably worn, It is not recommended to use the full-rubber type check valve in the cement or the medium which has the presence of particulate matter in pipelines. The installation method is the same as the dual plate check valve. The only difference is that the flange surface of the full rubber type check valve is also covered with rubber, so it is not necessary to add a gasket to fix it.
The Full Rubber type check valve's inner covering rubber, the medium and the body material are not in direct contact, and the rubber is separate into the medium and the valve body material, thereby achieving the acid resistance and corrosion resistance. The Full rubber type check valve body internal adopts an all-rubber design, which is not easily deposited or produced. And it also reduces the maintenance cost, but the disadvantage is that the rubber is not suitable to keep for a long-time in outside, even if the quality of the rubber is high, the aging phenomenon cannot be avoided.
More Knowledge about dual plate check valve:
Ductile iron, also known as ductile cast iron, ductile iron with the advantages of gray cast iron, and with a little steel advantages such as high strength, toughness, ductility, hardening, thermal workability, etc.…
Solid Lug Type check valve also called Full Lug type check valve. It is named the Lug type is because the shape is like the ear. Full Lug type is suitable for the environment where the space is small, because the flange hole has tapping, it can save the space occupied by the nut and the cost of the nut. Full Lug check valve has the same advantages and installation with Lug type, just the shape is different. Full Lug type Check valve is threaded (Flange holes by tapping). Also, after tapping the holes, it only needs the bolt to install, it can decrease the spent of Nuts on the contrary. Clamped between flanges with bolting passing through the body of a valve. The full lug type wafer type check valve's design that one end of the line can be taken off without having an effect on the opposing side. This can be executed by using flanges, along with two sets of lugs (bolts) that don't utilize nuts since each flange features its own bolts. It's also important to note that you don't need to shut down the entire system in order to clean, inspect, repair, or replace a lug wafer valve.
Related Products

---

Files Download

---

Catalogue for TVCCL valves

---

---

Installation and Maintenance Instructions for dual plate check valve

---

---

FAQ

TVCCL Check Valve is a dual plate check valve that conforms to API 594. TVCCL is known as one of the leading manufacturers of Valve in Taiwan since we established.A check valve, non-return valve (NRV) or one-way valve is a valve that normally allows fluid (liquid or gas) to flow through it in only one direction. Simply put, a check valve allows flow in one direction and automatically prevents back flow (reverse flow) when fluid in the line reverses direction. Ceck valve are one of the few self-automated valves that do not require assistance to open and close. Unlike other valves, they continue to work even if the plant facility loses air, electricity, or the human being that might manually cycle them. Check valves work automatically and most are not controlled by a person or any external control; accordingly, most do not have any valve handle or stem. Check valves are found everywhere, including the home. If you have a sump pump in the basement, a check valve is probably in the discharge line of the pump. Outside the home, they are found in virtually every industry where a pump is located. There are various types of check valves used in a wide variety of applications. Basically, check valve is doing the function of avoiding reverse flow no matter what the type is.

Taiwan Valve Centre Co.,Ltd. is the professional dual check valve manufacturers in the Taiwan. This information concerning the installation and operation of TVCCL Wafer Style, Dual Plate Check Valves. To ensure efficient and safe operation of TVCCL Dual Plate Check Valves. This manual is general in nature and is not meant to take the place of an on-site, process engineer or pipe fitter.Installation procedure 1. Check the dual plate check valve to make sure the pressure and duo chek valve materials are correct for the application. 2. Make sure the pipe line has enough support to prevent vibrations and load weight from damaging the check valve. 3. Make sure pipes are aligned. 4. Make sure pipe flanges and doule door check valve sealings are clean from any debris.Check all surfaces for cleanliness and other visible sign of foreign matter as the internal surfaces/parts must be clean and free of debris before installation 5. Before installing the valve, it is important to know the flow direction. The flow direction shall be the same direction as the arrow that can be found on the side of the valve. If the valve is installed in the wrong direction the flow will stop. 6. Fix the valve with the bolts without tightening them. 7. Use crosswise bolt tightening to ensure a fixed installation. Other bolt tightening sequences may affect the installation.Dual plate check valves should be installed a minimum of 6 pipe diameters downstream of any piping component (elbow, Tee, Valve, etc.) to allow the flow to stabilize. There should also be a minimum of 2 diameters of straight pipe downstream of the valve before the next fitting to allow for pressure recovery.

TVCCL has been designing & manufacturing dual plate check valves since 1998. We equipped with the required basic material to arrive at an optimum product delivery to meet all our customer requirements. TVCCL holds ready dual plate check valves stocks for smaller sizes enabling us to respond quickly to requests for customer's quick need. Also, all TVCCL wafer type check valve and materials are fully traceable and certified.For dual check valve WCB/CF8/CF8M/CI/DI/B148 C95800(ALBC3) we usually have stock as above; However, to some special materials, like A8904A/CF3M…etc. We need evaluate if it need MOQ or not.Seat of dual plate wafer type chack valve we normal have as bellow NBR→Usually used in WATER & WASTEWATER TREATMENT. EPDM→Usually used in OIL & GAS. VITON→Usually used in CHEMICAL & PETROCHEMICAL. METAL (Same as Body)→Usually used in HIGH TEMPERATURE ENVIRONMENT, HAVE LEAKAGE.※Rubber seat zero leakage Metal seat leakage permitted values according to standard API598, permitted value is "size*700c.c"/MinOtherwise, we have special type named "__________" Under no pressure environment, no leaking when you pouring water into valve.