Company Structure
TVCCL are the best group
Set up in 1998, Taiwan Valve Centre Co.,Ltd. is a leading industrial valve manufacturer in Taiwan and has been exporting doudle disc wafer type check valve. for more than 20 years to Japan, U.S., U.K., Russia, Singapore and other nations all over the world.
TVCCL are adhering to the entrepreneurial spirit "Value, Professional, Quality, Service, Innovation, Execution" and committing to build industrial check valve, duo check valve, and we are looking forward to providing you with quality dual plate wafer type check valve and satisfactory service!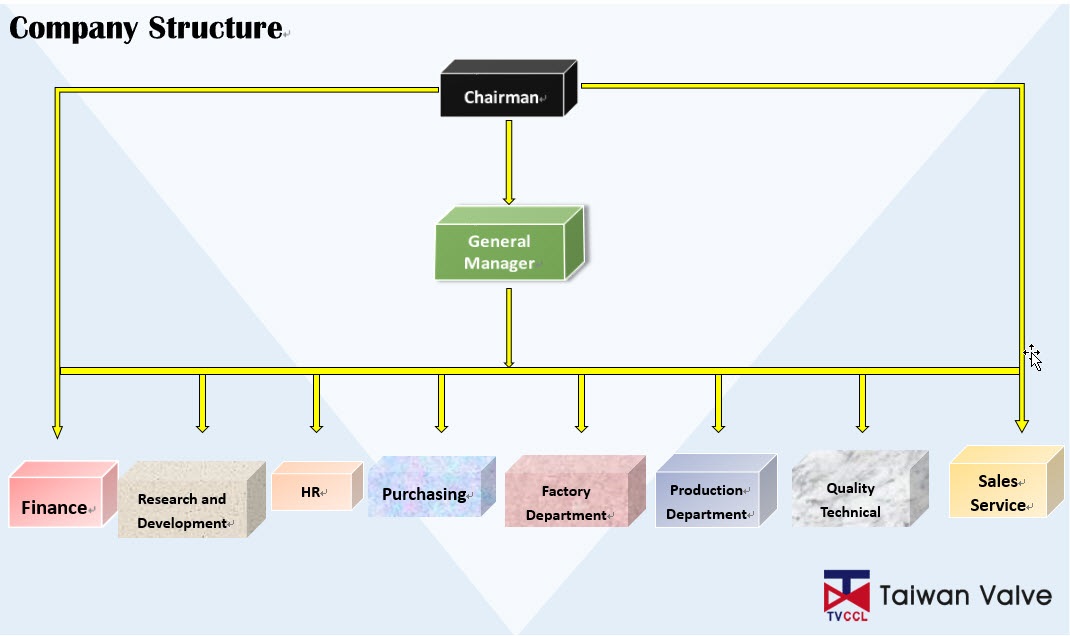 "Leading the industry and achieving the best through our core value: "Innovation, Accountability, Passion"
TVCCL is a team flowing with unlimited creativity and passionate energy that is responsible for our commitments. Our mutual goal is to "provide quality dual plate check valves" To achieve this grand purpose, our team members encourage each other and show their strengths, in order to present the best results to customers.

Resources for continuous innovation, to achieve the goal of continuous operation through practices of professional excellence, working enthusiasm, and enterprise responsibility.

We strive to implement our core value, creating a better work environment with open, equal communication, cooperative teamwork, and advanced innovative solutions. We adhere to our corporate roots and foster a sense of pride in our employees, thereby keeping up the search for newer and better ways to progress on the global stage.

The company comprises of the below main teams
Sales service Department|Quality Technical|Research and development department|Factory Department
"Breaking free from tradition and creating new opportunities together"
For 25 year, our employees have endeavored together step by step, helping TVCCL to achieve our current position and value on the global market. We are deeply appreciative of the years of support and trust shown by all our customers.

TVCCL Services quality inspection model is based on years of manufacturing experience specifically in valve production.

We continue to develop innovations, satisfy customized modifications, and resolve customer issues in time. By implementing "innovation, accountability, and passion" in the company in a bottom up manner, TVCCL's outstanding professional team will work unceasingly with regard to the everchanging international market, enhancing our turnkey solutions and aspiring to become the world's largest dual plate check valves manufacturer!
Sales service Department "Creating market opportunities together with customers is our most important mission!"
TVCCL has an excellent service reputation and customer friendly sales processes.
Our sales department is not only offer quotes and sales of products, but also responsible for shipping problems and service reply, we provide our enthusiasm, professional and service to customers.

With substantial experience, reliable technology support, and professional assessment and recommendation, the department offers customers thorough before-sales/after-sales service, as well as proper comprehensive consultation and suggestions for pipeline environment. We consider customers our valuable friends and provide you with the most fitting solutions!

In case client have check valve questions, TVCCL will respond it A.S.A.P.
We provide clients with ever improving service for their satisfaction.
Quality Technical
Thoroughly carry out quality control work for the goods flow. All engineers are required to pass an annual profession review to ensure that the best quality service is provided to clients. Implementation of abnormal product quality correction system, so that clients get immediate response and service
TVCCL's Quality Policy Is To Ensure Perfect Service, Excellent Quality, And Never-Ending R&D Innovations. TVCCL Selects Prime Suppliers For Quality Assurance Carefully. We Promise To Keep Improving Every Aspect In Our Process To Present Superior Check Valve And Service To Our Clients.

Our quality assurance and verification services include:
Incoming casting inspection
Machining and dimensional process inspection
Assembly inspection
API 598 pressure testing inspection
Final visual inspection
Packing and shipping
Each of these quality verification inspections are critical in reducing the risk of non-conformances.
Research and development department
Improve customer recommendations and questions to effectively put customers suggest into practice so that product quality continues across the bottleneck.
Professional team develop precise designs. Tracking designs and issues of different check valve for best know-how management. According to user requirements will be quickly rendered and presented for customer satisfaction.
Factory Department
Site flow process and production line planning all follow 5S site management method specifications.
We adopt high efficiency plant management, while all process designs of production and related operations comply with ISO standards.
"Efficient operations that accomplish perfection"
Department units from production management, procurement, and quality assurance to warehouse and production are integrated into the flow line to achieve the ultimate production efficiency.
Arrange check valve schedules and carefully control production quality and take responsibility for warehouse affairs, safety, and the parts stock control.
Implementation of education outreach so that new employees can learn relevant technical knowledge effectively to avoid technical faults
According to operational requirements, our engineers undergo annual reviews to ensure that customers receive the finest service quality.
Movies

Dual Plate Check Valve Manufacturer - TVCCL is a check valve's manufacturer. Supply many kind of check valve.