---
Y-Strainer Valve
TY2
As the marketplace becomes increasingly rival, more emphasis has been placed on reducing factory downtime and maintenance. In steam and condensate systems, damage to plant is frequently caused by pipeline debris such as scale, rust, jointing compound, weld metal and other solids, which may find their way into the pipeline system. Y-Strainer Valve are devices which arrest these solids in flowing liquids or gases, and protect equipment from their harmful effects, thus reducing downtime and maintenance. A strainer should be fitted upstream of every steam trap, flowmeter and control valve.
Y-Strainer
Strainers are devices for mechanically removing unwanted object from liquid or gas lines by a wire mesh to strain element. They are used in pipelines to protect valves, pumps, traps or other pipes equipment.
Strainers are used in a extensive variety of liquid straining applications to protect downstream components in many industries, including chemical and petroleum processing. Strainers are used to protect equipment which could be damaged or blocked by unwanted sand and debris. In many applications, strainers are very cost effective straining solutions
Features
Y-Strainer is easily take apart to clean out dirt.Y-Strainers are devices for mechanically removing unwanted solids from liquid, gas or steam lines by means of a perforated or wire mesh straining element. They are used in pipelines to protect pumps, meters, control valves, steam traps, regulators and other process equipment.
Y-type filter is a small device that removes a small amount of solid particles in the liquid, which can protect the normal operation of the equipment. When the fluid enters the strainer mesh, its impurities are blocked, and the clean filtrate is filtered by the filter. Discharge. When cleaning is required, just remove the detachable strainer cap, re-load it after processing, so it is very convenient to use and maintain.
Specification
Full Port.
Mesh:1mm
Precision Casting.
Body materail SS316.
Pressure: 800PSI
SIZE: 1/4" ~ 3" (DN8 ~ DN80)
(Other flange connection please contact Taiwan Valves Centre Co., Ltd.)
*Technical information is only for reference. Taiwan Valves Centre Co., Ltd. reserves the right to change without previous notice.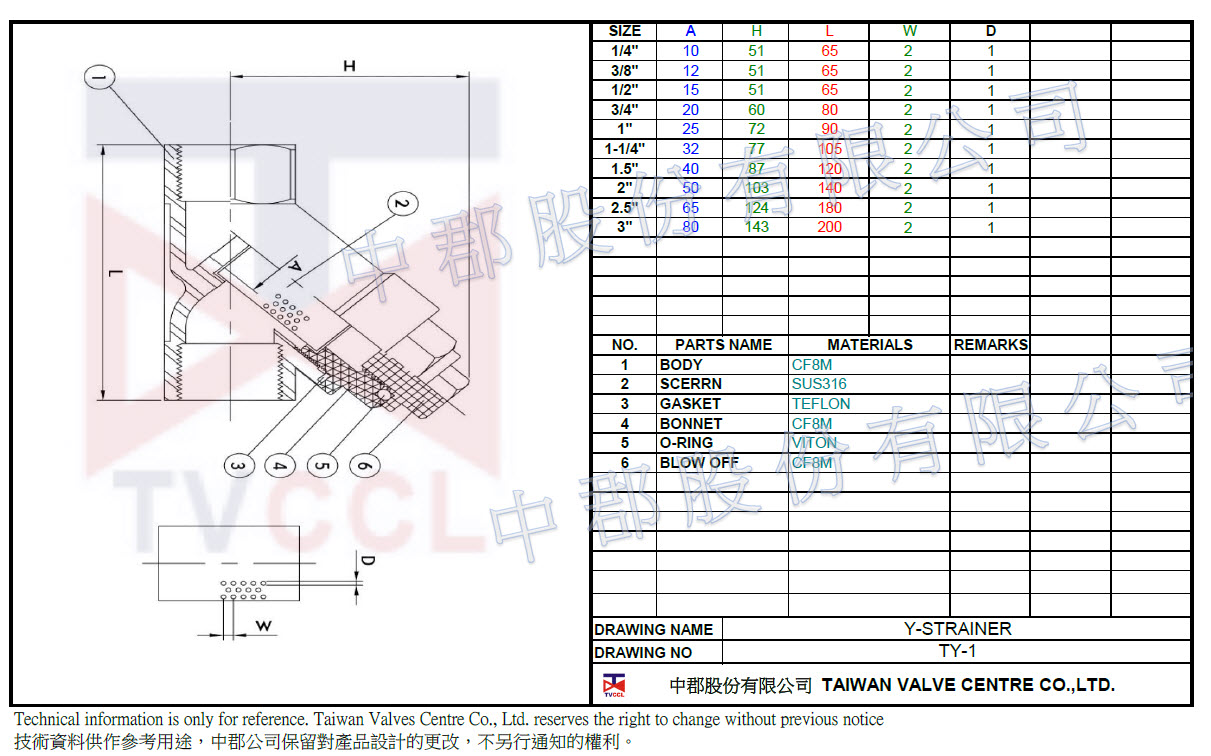 Applications
Y-Strainer typically used in against the damage, traps and other equipment when some dirt, scale or welding particles through the pipeline.
Y-Strainers are used in a wide variety of liquid straining applications to protect downstream process system components in many industries, including: chemical processing, petroleum, power generation and marine.
Water handling applications, where Y-Strainers are used to protect equipment that could be damaged or clogged by unwanted sand, gravel or other debris, are very common
Usually installed in the inlet port of pressure reducing valve, pressure relief valve or other equipment to remove impurities from the media; protect the normal use of valves and equipment
Applicable to industries like fine chemicals, paper, automotive industry, etc.
Installed on the backwater side of pump or equipment.
Y strainer also used in water spray systems of agriculture and gardening.
More Knowledge about TVCCL valve:
Y-Strainers become part of the piping line and strain debris from the process fluid. Y strainer is an essential filter equipment which uses in hydraulic control valves and susceptible to plugging the mechanical products. Used to filter impurities in the fluid, also to prevent particulate impurities into the channel, in order to protect the equipment pipe fittings, from wear and block. Y strainer leg connects to the main pipe at a diagonal angle, giving the strainer its "y" shape, and is the same as Y type check valve's out looking. Y-strainers help protects valuable downstream equipment - like pumps, regulators and measuring devices - which might be damaged by contaminants. You can find Y Strainers in food preparation, cosmetics, diesel engines, and the petroleum industry, the petroleum industry also steams applications. Y strainer parts shape construction makes it ideal for handling high pressures put out by steam. Y-Strainers are useful equipment for filtering unwanted particulates out of a line. For both liquids and gasses are suitable to use. Y-strainers helps keep the pump running at peak performance without concerns about clogging. Y-Strainers can be installed horizontally or vertically with the leg down to catch debris. Y-strainers build up a part of the fluid cleaning processes which make the products better to use.
Related Products

TY1

---

Y-Type Check Valve suitable for either horizontal or vertical line. Y-type check valve, is used in liquid or compressed air systems to allow the media to only flow in one direction. Also, used to prevent reverse fluids in lines with high pressure and/or temperature. Y-Type Check Valve are less affected by turbulent flow and typically have lower shutoff characteristics than ball checks, and also have improved flow characteristics over ball check valves. In-line clean out is possible with the easy access cap.

---

---

Files Download

---