Knife Gate Valves
TK2
TVCCL Knife Gate Valves for the Pulp and Paper Industry. With a sharp, beveled edge, a knife gate is ideally suited to cut through the stringy pulp found in the pulp and paper industry. Benefits of knife gate valves also include that they are easy to operate and inexpensive to produce. can be used in wastewater treatment, oil and gas, mining, and power applications. Knife gate valves have proven advantageous in sludge and slurry applications because their blades can easily cut through thick liquids.
Knife Gate Valves shouldn't be used to regulate flow because whenever fluid is forced against a partially closed gate, a vibration takes place, gradually eroding the disk and seat. Consequently, knife gate valves should only be used completely closed or opened. In addition, these valves are designed to slowly open and close to safeguard against the impacts of water hammer.

TVCCL knife gate valve is a specialized type of gate valve designed primarily for on-off and isolation services in systems with viscous and slurry-type media. Here's an overview of the effects and benefits of using a knife gate valve:
Features
Effective Shut-off for Slurry Media: The primary effect of a knife gate valve is its ability to provide a tight shut-off in systems that transport slurry, pulp, or other viscous media. The "knife" edge of the valve can cut through the slurry, ensuring a tight closure.
Compact Design: Knife gate valves are typically more compact than traditional gate valves, making them suitable for installations where space is a constraint.
Cost-Effective: Generally, knife gate valves are more cost-effective than other types of specialized slurry valves.
Versatility: They can be used in a variety of applications, including wastewater treatment, paper and pulp industries and mining, among others.
Reduced Clogging: The design of the knife gate valve helps in reducing the chances of media clogging, especially when dealing with particulate or fibrous media.
Quick Operation: Many knife gate valves are designed for quick operation, allowing for rapid opening and closing, which can be crucial in certain applications.
Please note that Knife-Gate valves are only to be used in fully open or fully closed positions to control fluid flow and are unsuitable for throttling to avoid high-speed fluid flow through the disc and seat which can cause erosive effects, seat and disc abrasion, and vibration from fluid impacting the disc, leading to damage of the disc and seat.

In summary, the primary effect of a knife gate valve is to provide reliable isolation and control in systems that handle challenging media, such as slurry or viscos fluids. Their design ensures effective shut-off, reduced clogging, and efficient operation.
Specification
Body Connection: Lug type,Flange type
(Other flange connection please contact Taiwan Valves Centre Co., Ltd.)
*Technical information is only for reference. Taiwan Valves Centre Co., Ltd. reserves the right to change without previous notice.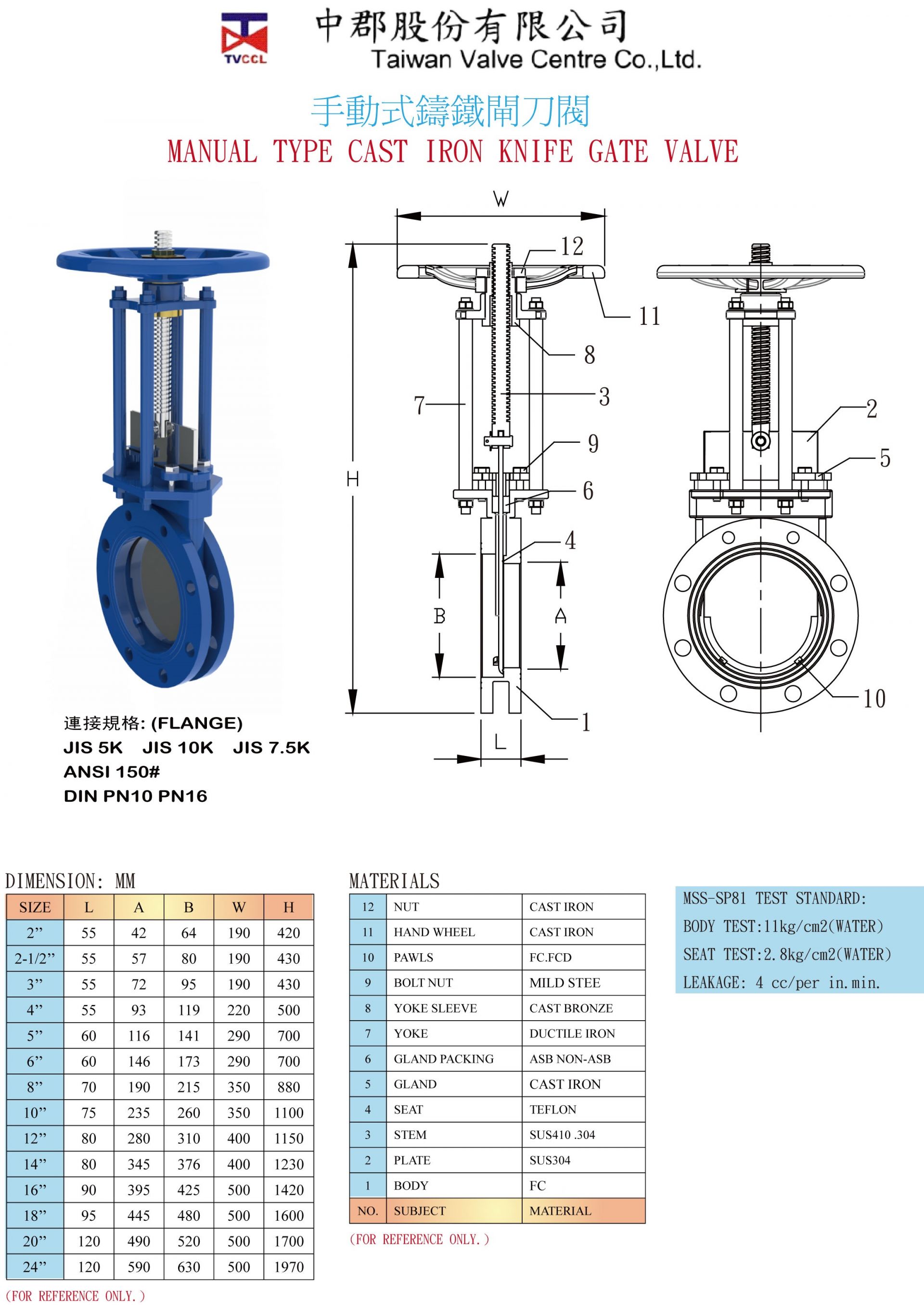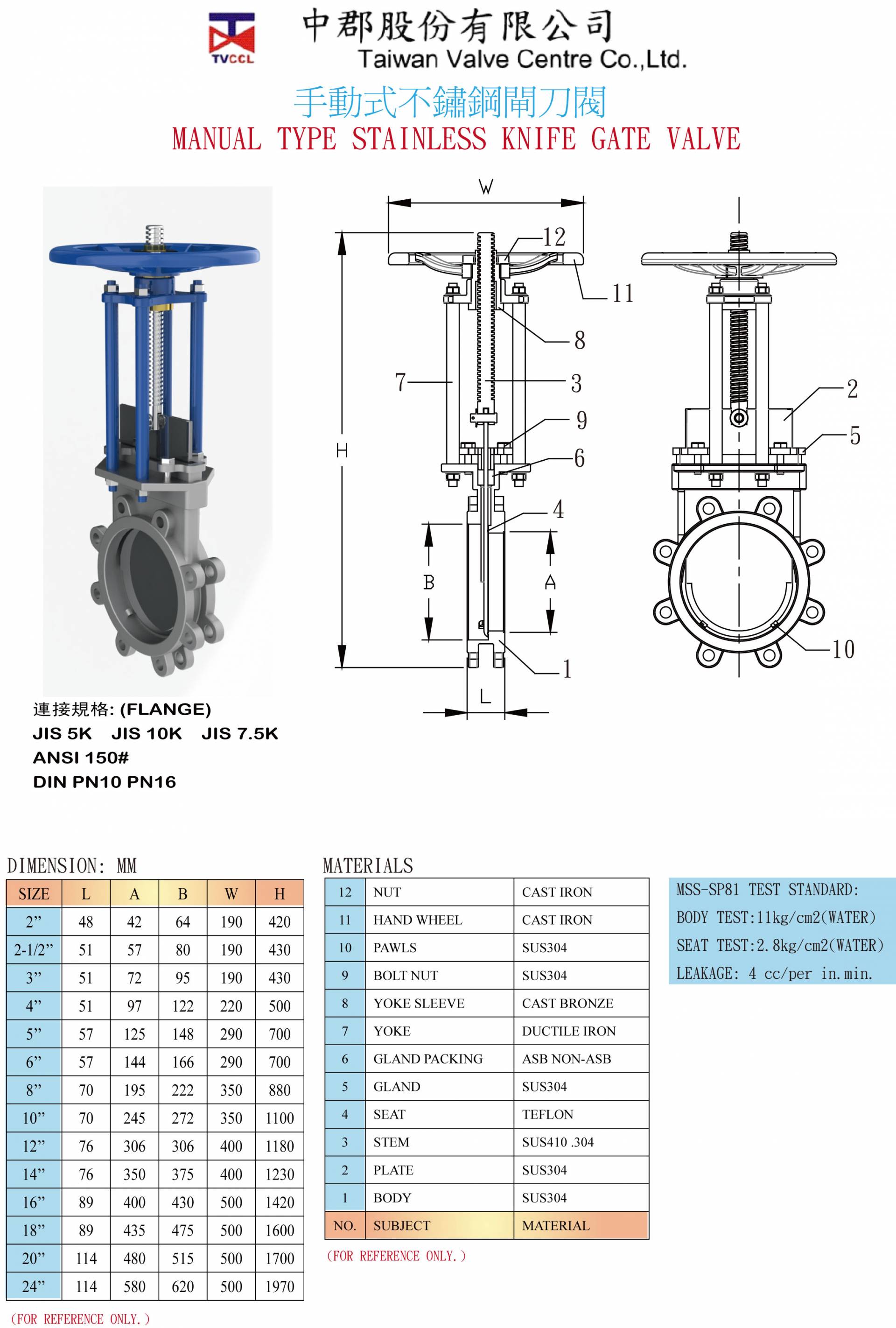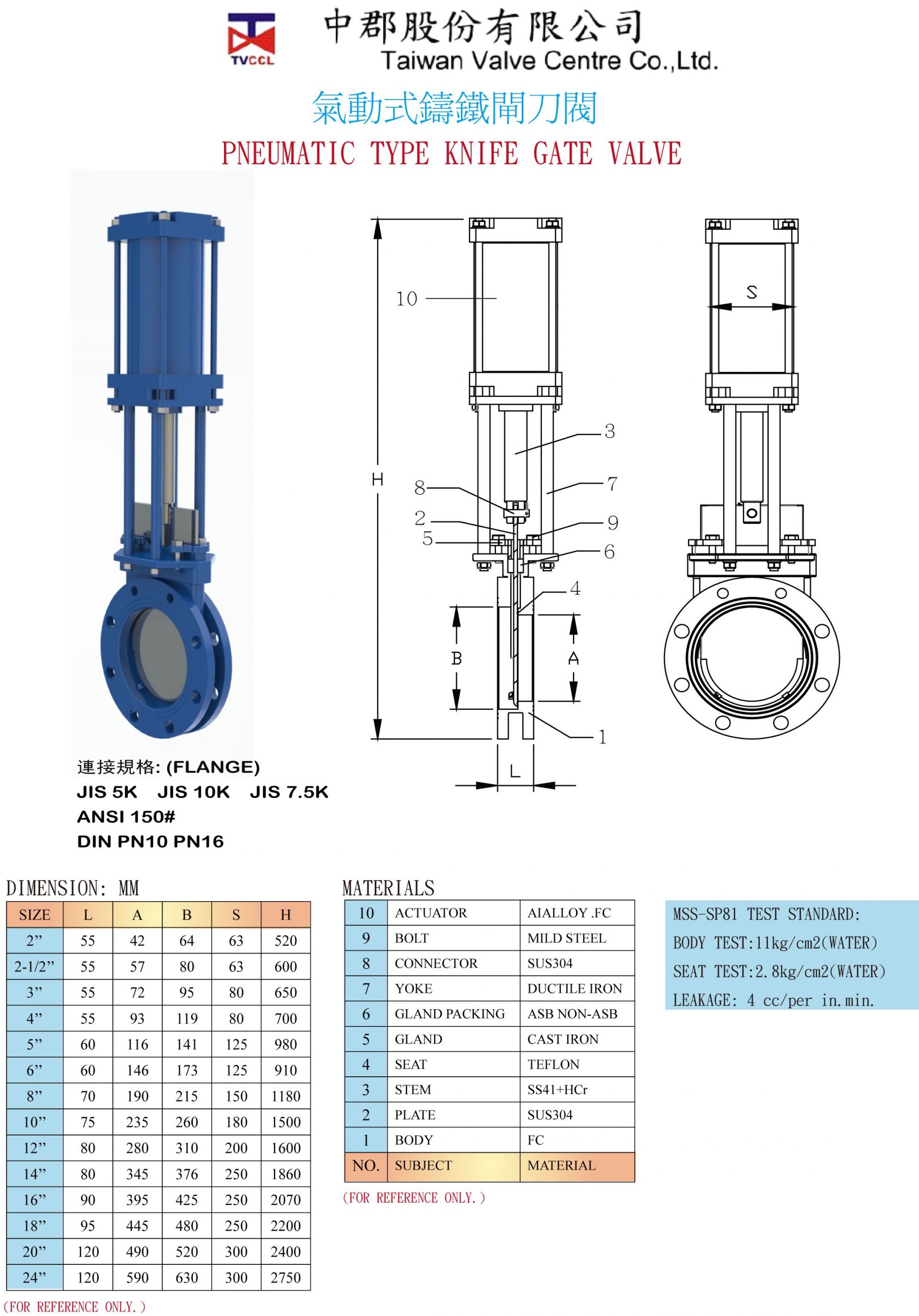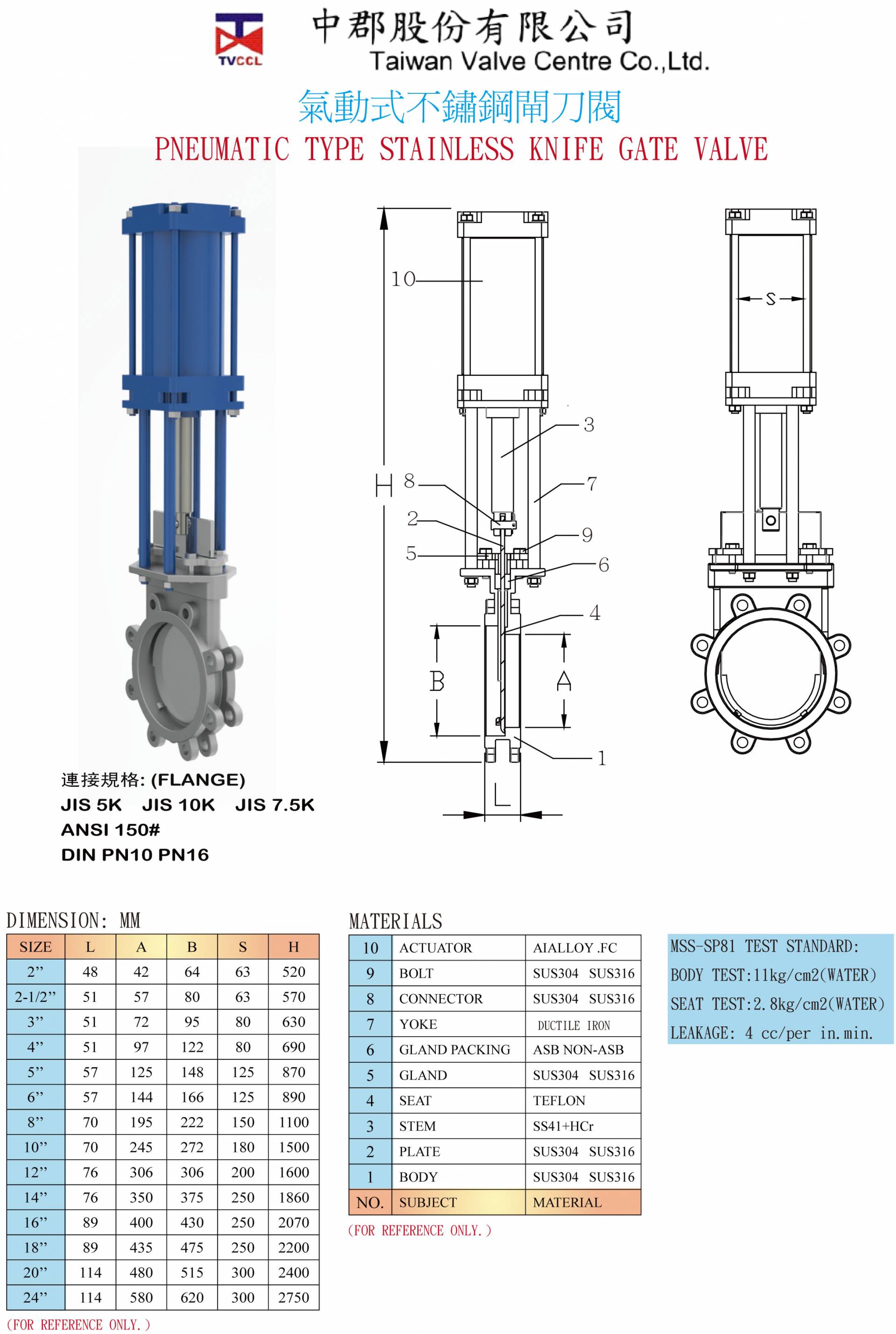 Applications
Applicable medium: plastic granules, pulp, wood pulp, fiber, dust, chemical treatment sewage, silo export, fruit, grain, cement slurry, etc.
Knife Gate Valve generally used in powders, granules containing particles, cellulosic, impurities, etc.
Widely used in dust collection equipment, powder lining equipment, sewage treatment, carton supply equipment, etc.
The applicable places are mostly industrial air transportation occasions, pulp, fertilizer, cement, ash, lime, raw food materials and other industries or sludge treatment, sewage treatment and other factories.
Knife-Gate valves are generally not recommended for throttling service, where both the fluid flow and the solid particles can damage seats causing leakage. High fluid velocity or the presence of solid particles in suspension will further reduce seat life in throttling applications.
Knife Gate Valve were designed to work in some of the most corrosive, erosive and abrasive environments in the world.
More Knowledge about TVCCL valve:
Knife Gate Valves's resilient seat knife gate is a bi-directional valve and could be applied with the flow in any direction. Knife Gate valve can be divided into two operation - manual and pneumatic. The valve is designed for the full circular direct current channel to reduce slag and jamming. The bottom end of the blade is machined into a blade shape with a cutting function, so the Knife Gate valve has a good cutting function for soft materials such as fiber, pulp, and wood pulp. Benefits are good opening and closing, Easy to install, wear-resistant and anti-blocking measures, easy to maintain, easy to use and long life. At first, Knife gate valves were designed for use in the pulp and paper industry. Knife gate valve was an ideally designed to cut through the stringy pulp encountered in the pulp and paper industries. The benefits of the knife gate valve also include that they are easy to actuate and cheap to produce. As a result, use of knife gate valves quickly expanded into numerous other markets, including wastewater treatment, oil and gas, mining, and power, in a short period of time. Otherwise, Knife gate valves became advantageous in sludge and slurry applications because their blades can cut right through thick liquids easily. Today, a knife gate valve can be found in many processing plants. Knife gate valves are available in large sizes to better handle thick flows of heavy oils, light grease, slurry, paper pulp, varnish, and wastewater.
The valve plate material is generally selected from stainless steel 304.316, and other materials are welcome to contact us for consultation.
Related Products

TG13

Gate valves are widely used in various industries for their many advantages. One of the primary...

Details

Files Download

Installation and Maintenance Instructions for Knife Gate Valve

Download
Best product catalog
Please download it to know dual check information.
Download
Have Any Product Inquiry?
Call Us :
886-3-3893008 / 3893028
Thank You.
More Details
Knife Gate Valves - Knife Gate Valves | Made in Taiwan Dual Plate Check Valves Manufacturer | Taiwan Valve Centre Co., Ltd.
Located in Taiwan since 1998, Taiwan Valve Centre Co., Ltd. has been a dual plate check valve manufacturer with all the valves sold to 1,500 clients in 80 countries worldwide. Their main valve products, including Knife Gate Valves, dual plate check valves, dual plate full lining type, retainerless check valves, bypass check valves, short and long wafer check valves and spring wafer type for industries, such as oil, shipbuilding, seawater desalination, cooling system and nuclear.
TVCCL has a competitive pricing, reliable quality product and excellent after-sales support, well-down packing. We have received good reputation as being a well-known supplier in supplying reliable quality and competitive price check valves from customers. 20 years of experiences in producing dual plate check valve, excellent after-sales support, OEM / ODM, oil industry, shipbuilding, seawater desalination, cooling system, nuclear industry.
TVCCL, TAIWAN VALVE has been offering customers high-quality and durable industrial check valves for any applications since 1998, both with advanced technology and 25 years of experience, TVCCL, TAIWAN VALVE ensures each customer's demands are met.