---
Dual Plate Wafer Type Check Valve with Full Rubber
TC1
Dual plate wafer type check valve with full rubber is usually used in seawater desalination system.
Usually we chose iron body and aluminum bronze disc to complete the valve.
Dual plate wafer type check valve with full rubber don't need MOQ.
Dual plate wafer type check valve with full rubber can applied in the sewage industry, sea water treatment and desalinization project, and etc.
Fully lined dual check valve, Rubber lined dual check valve
For rubber test, we have Pinhole test machine, also do self-test if require.
Rubber seat usually use in sea water.
The inner body is full covered by rubber. Compared to other check valves, this design owns the better watertight effect.
Features
Internal with full rubber.
Suitable for Sea Water or High concentration brine.
The valve internal body is covered with rubber, in order to reduce the chance of valve leakage due to corrosion effect, and the valve body can choose DI to achieve cost down.
Basically, the valve which is used in seawater, our recommendations as follows: Body: DI, Disc: C95800, Seat EPDM.
Low cost (for some special fluid).
Non Slamming.
Specification
Size: 2" ~ 60" (DN50 - DN1500)
Pressure Rating For ASME: 125# ~ 600# Suit For ASME / MSS / API Flange
Pressure Rating For ISO: PN10 ~ PN40 Suit For ISO Flange
Pressure Rating For JIS: 5K ~ 20K Suit For JIS Flange
Material:CI,DI,WCB,CF8,CF8M
Designed in accordance with API 594
(Other flange connection please contact Taiwan Valves Centre Co., Ltd.)
*Technical information is only for reference. Taiwan Valves Centre Co., Ltd. reserves the right to change without previous notice.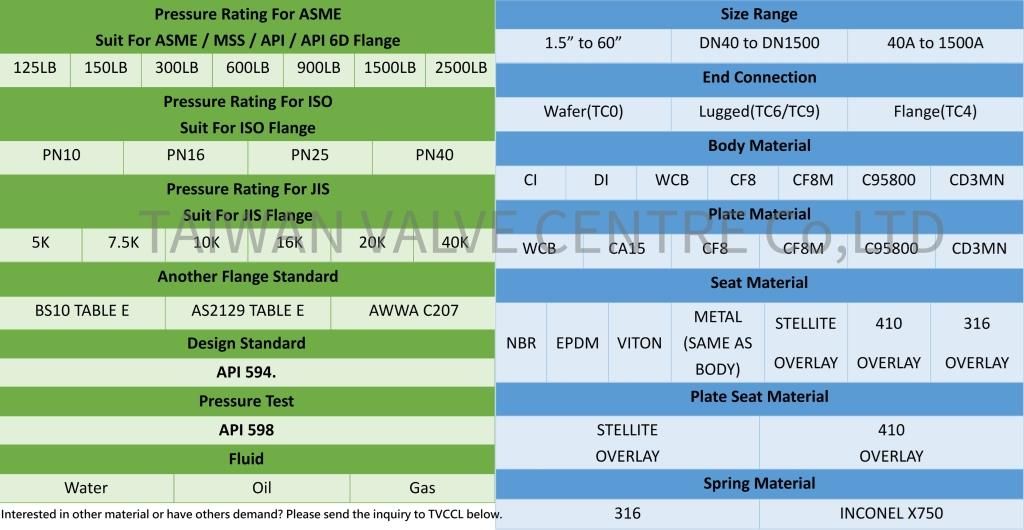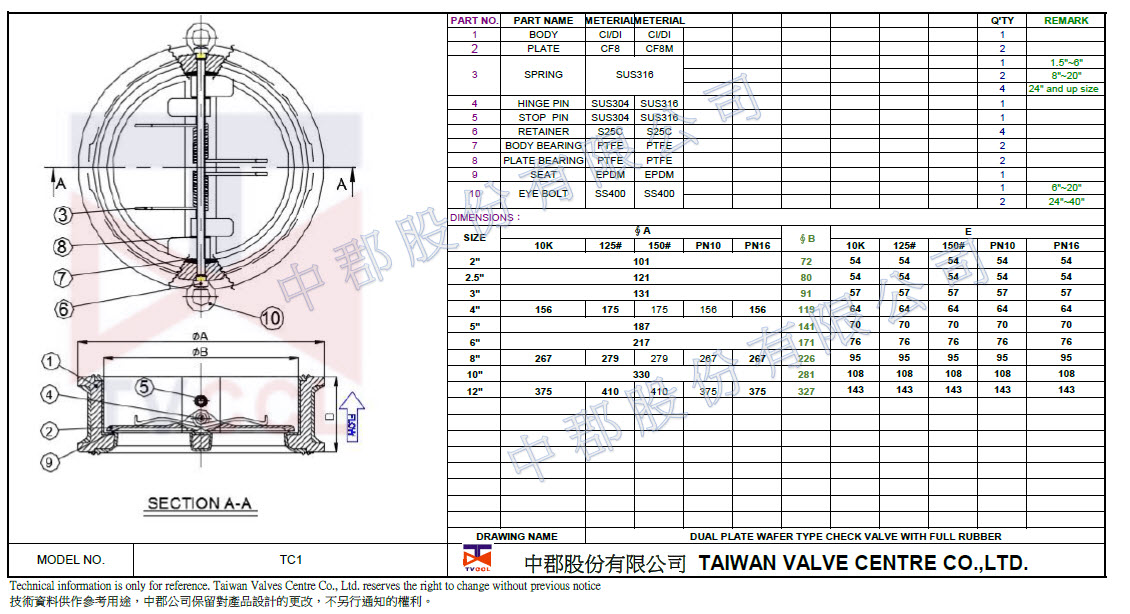 Applications
Full rubber type check valve suitable for seawater, water, cooling water pipeline and…etc.
The full rubber lined usually used in shipyard, ship plant, seawater desalination, seawater-cooling system.
The rubber separate medium and the valve of body in order not to contact directly. The full lining type check valve can be used for high concentration brine or acidic medium.
Full lining type check valve widely applied for water conservancy facilities, sewage treatment plants, and industrial or residential construction industries.
Dual plate wafer type check valve with full rubber can suitable for pump, sewerage, and reservoir flood control, etc.
Used in waterproof systems, discharge system, pump, etc.
More Knowledge about TVCCL valve:
TVCCL full rubber type check valve's material is divided into two choices, NBR and EPDM. Before use, you must pay attention to the temperature of the medium and whether there is a granular object in the medium. Because the rubber can't afford the high temperature and low temperature as well, it is recommended to use it at normal room temperature to avoid the rubber falling off or deforming; and owing to the rubber is unbearably worn, It is not recommended to use the full-rubber type check valve in the cement or the medium which has the presence of particulate matter in pipelines. The installation method is the same as the dual plate check valve. The only difference is that the flange surface of the full rubber type check valve is also covered with rubber, so it is not necessary to add a gasket to fix it.
The Full Rubber type check valve's inner covering rubber, the medium and the body material are not in direct contact, and the rubber is separate into the medium and the valve body material, thereby achieving the acid resistance and corrosion resistance. The Full rubber type check valve body internal adopts an all-rubber design, which is not easily deposited or produced. And it also reduces the maintenance cost, but the disadvantage is that the rubber is not suitable to keep for a long-time in outside, even if the quality of the rubber is high, the aging phenomenon cannot be avoided.
More Knowledge about dual plate check valve:
The Dual plate wafer type check valve with full rubber, as the name implies, it is the wafer type check valve which lined the rubber inside the body, also known as a full lining check valve. Full rubber check valve is lined with rubber, which has a better waterproof and slip-proof effect than the other valves. Without any leakage under normal circumstance. Commonly used in environments with high salinity content, desalination or coastal areas. Due to the insulating function of the rubber material, it has become the first choice for users of the above-mentioned environment. Full rubber check valve's body is covered with rubber, so the valve body material can be selected from the lower price, such like DI material or WCB material, and the price is lower than AL-BRONZE or Duplex and Super Duplex Stainless Steel.
Related Products

TC5

---

Full rubber body dual plate flange check valves design with no external body penetrations eliminating the possibility of outside leakage. Because the body design with full rubber lined The elevated costs and continuous variation in the prices of prime materials used for castings of alloyed materials for corrosion resistance is motivation to look for alternatives more economical or other type of constructions. Dual plate flange type check valve with full rubber is good choose. By this application costs can be reduced between 15% and 35% of the total valve cost compared with the body completely in alloy.

---

TC7

---

Lug type dual plate with full rubber lined check valve's body with full rubber lined can effectively reduce disc's leakage probability for the corrosion of seawater. In a lugged connection the valve is fastened directly to the pipe flange by connecting the pipe flange with bolts to the valve body also drilled with threads. Small space available, easier installation, Quick closed to reduce water hammer situation. Cost Efficient, the cost would be less than swing type check valves, with the same functional operation.

---

TC10

---

Full Lug type dual plate check valve is suitable for the environment where the space is small, because the flange hole has tapping, it can save the space occupied by the nut and the cost of the nut. Versus conventional swing check valves, the series valve have the advantages of no leakage toward outside API 594 dual plate check valve is widely used in the flow control industry. Due to its short face to face dimension, it requires smaller installation space and has lower weight, which offers competitive life cycles costs compare with swing check valve.

---

---

Files Download

---

Catalogue for TVCCL valves

---

---

Drawing for dual plate wafer type check valve with full rubber CI CAST IRON DI A536 65 45 12 DI DUCTILE IRON 125LB 150LB 10K PN10 PN16

---

---

FAQ

TVCCL Check Valve is a dual plate check valve that conforms to API 594. TVCCL is known as one of the leading manufacturers of Valve in Taiwan since we established.A check valve, non-return valve (NRV) or one-way valve is a valve that normally allows fluid (liquid or gas) to flow through it in only one direction. Simply put, a check valve allows flow in one direction and automatically prevents back flow (reverse flow) when fluid in the line reverses direction. Ceck valve are one of the few self-automated valves that do not require assistance to open and close. Unlike other valves, they continue to work even if the plant facility loses air, electricity, or the human being that might manually cycle them. Check valves work automatically and most are not controlled by a person or any external control; accordingly, most do not have any valve handle or stem. Check valves are found everywhere, including the home. If you have a sump pump in the basement, a check valve is probably in the discharge line of the pump. Outside the home, they are found in virtually every industry where a pump is located. There are various types of check valves used in a wide variety of applications. Basically, check valve is doing the function of avoiding reverse flow no matter what the type is.

Taiwan Valve Centre Co.,Ltd. is the professional dual check valve manufacturers in the Taiwan. This information concerning the installation and operation of TVCCL Wafer Style, Dual Plate Check Valves. To ensure efficient and safe operation of TVCCL Dual Plate Check Valves. This manual is general in nature and is not meant to take the place of an on-site, process engineer or pipe fitter.Installation procedure 1. Check the dual plate check valve to make sure the pressure and duo chek valve materials are correct for the application. 2. Make sure the pipe line has enough support to prevent vibrations and load weight from damaging the check valve. 3. Make sure pipes are aligned. 4. Make sure pipe flanges and doule door check valve sealings are clean from any debris.Check all surfaces for cleanliness and other visible sign of foreign matter as the internal surfaces/parts must be clean and free of debris before installation 5. Before installing the valve, it is important to know the flow direction. The flow direction shall be the same direction as the arrow that can be found on the side of the valve. If the valve is installed in the wrong direction the flow will stop. 6. Fix the valve with the bolts without tightening them. 7. Use crosswise bolt tightening to ensure a fixed installation. Other bolt tightening sequences may affect the installation.Dual plate check valves should be installed a minimum of 6 pipe diameters downstream of any piping component (elbow, Tee, Valve, etc.) to allow the flow to stabilize. There should also be a minimum of 2 diameters of straight pipe downstream of the valve before the next fitting to allow for pressure recovery.

TVCCL has been designing & manufacturing dual plate check valves since 1998. We equipped with the required basic material to arrive at an optimum product delivery to meet all our customer requirements. TVCCL holds ready dual plate check valves stocks for smaller sizes enabling us to respond quickly to requests for customer's quick need. Also, all TVCCL wafer type check valve and materials are fully traceable and certified.For dual check valve WCB/CF8/CF8M/CI/DI/B148 C95800(ALBC3) we usually have stock as above; However, to some special materials, like A8904A/CF3M…etc. We need evaluate if it need MOQ or not.Seat of dual plate wafer type chack valve we normal have as bellow NBR→Usually used in WATER & WASTEWATER TREATMENT. EPDM→Usually used in OIL & GAS. VITON→Usually used in CHEMICAL & PETROCHEMICAL. METAL (Same as Body)→Usually used in HIGH TEMPERATURE ENVIRONMENT, HAVE LEAKAGE.※Rubber seat zero leakage Metal seat leakage permitted values according to standard API598, permitted value is "size*700c.c"/MinOtherwise, we have special type named "__________" Under no pressure environment, no leaking when you pouring water into valve.