---
Dual Plate Wafer Type Check Valve With Retainerless
TC8
Wafer body valves are designed with flangeless bodies with short face-to-face dimensions per API 594. Retainerless duo check Valves are clamped between mating flanges which are connected by bolt and nuts.
Retainerless dual-plate check valves
Features
Design features of our Retainerless dual check valve:
Do not have any leakage problem on Body. Wafer type design fasten valve by bolt and flanges
Specification
Size: 2" ~ 60" (DN40 - DN1500)
Pressure Rating For ASME: 125# ~ 2500# Suit For ASME / MSS / API Flange
Pressure Rating For ISO: PN10 ~ PN40 Suit For ISO Flange
Pressure Rating For JIS: 5K ~ 20K Suit For JIS Flange
Material:CI,DI,WCB,CF8,CF8M,ALBC3,A8904A(MOQ)
Designed in accordance with API 594
End Connection: Wafer, Lugged (TC8-2, TC8-3), Flanged (TC8-1)
*Technical information is only for reference. Taiwan Valves Centre Co., Ltd. reserves the right to change without previous notice.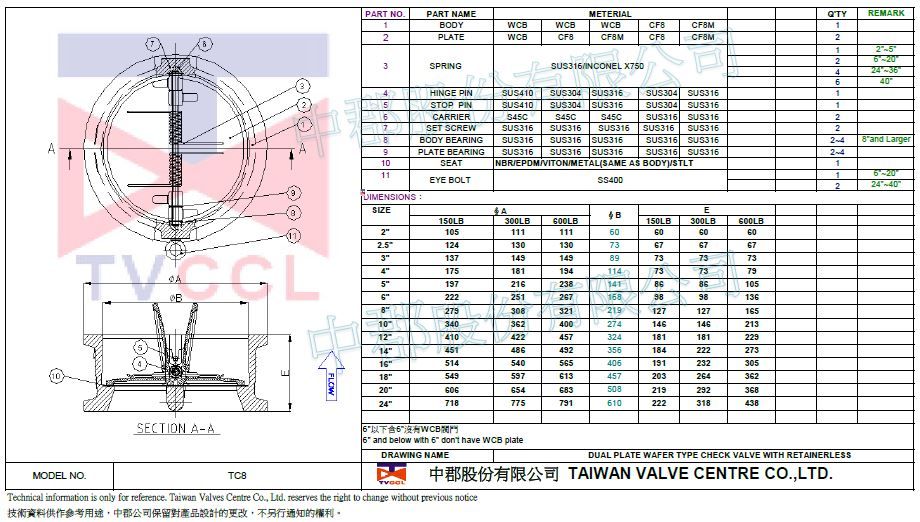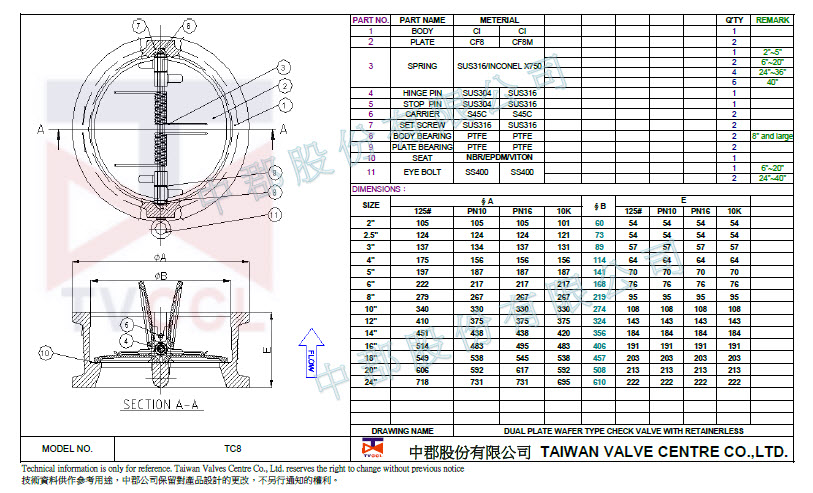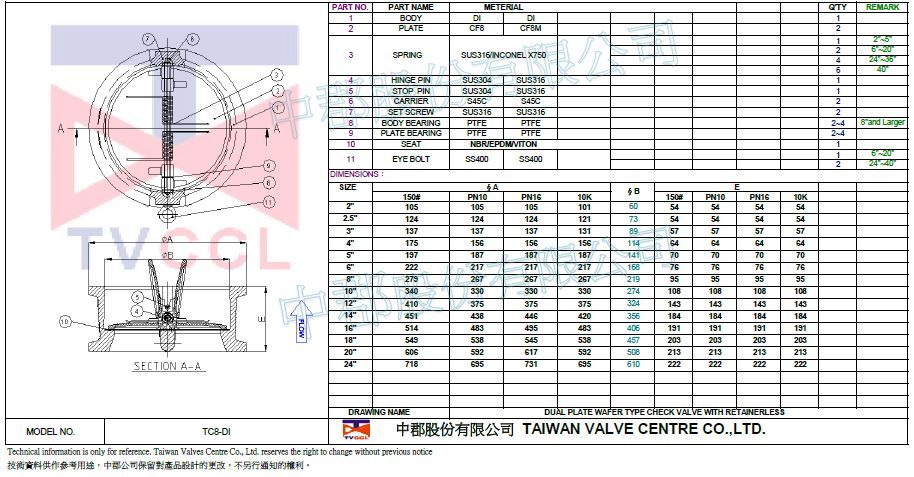 Applications
Retainerless dual check valve is suitable for high temperature and high pressure environment, like Petrochemical, Refinery or power plant.
Variety of Body Designs Available - Wafer Type, Lug Type and Double Flange Type.
TVCCL has been exporting its products to the United States, Japan, Singapore, UAE, Europe, and other advanced industrial and regions, also,we had supplied to SAMSUNG,SIEMENS, Mitsubishi Heavy Industries, Kobe Steel and other internationally renowned companies.
The island of Taiwan's Formosa Plastics Group, Chi Mei Industrial Group, Changchun Chemical Engineering, Taiwan's China Steel, China Shipbuilding Group and other large enterprises are also included.
TVCCL's products are widely used in petroleum and petrochemical products, steel,desalination, shipbuilding, energy, water treatment, air-conditioning, electronic and other industrial fields.
Related Products

---

Files Download

---

FAQ

A check valve, clack valve, non-return valve (NRV) or one-way valve is a valve that normally allows fluid (liquid or gas) to flow through it in only one direction. Check valves work automatically and most are not controlled by a person or any external control; accordingly, most do not have any valve handle or stem. There are various types of check valves used in a wide variety of applications. Basically, check valve is doing the function of avoiding reverse flow no matter what the type is

we will email our Installation and maintenance instruction for your reference at first transaction.

WCB/CF8/CF8M/CI/DI/B148 C95800(ALBC3) we usually have stock as above; However, to some special materials, like A8904A/CF3M…etc. We need evaluate if it need MOQ or not.NBR→Usually used in WATER & WASTEWATER TREATMENT. EPDM→Usually used in OIL & GAS. VITON→Usually used in CHEMICAL & PETROCHEMICAL. METAL (Same as Body)→Usually used in HIGH TEMPERATURE ENVIRONMENT, HAVE LEAKAGE.※Rubber seat zero leakage Metal seat leakage permitted values according to standard API598, permitted value is "size*700c.c"/MinOtherwise, we have special type named "__________" Under no pressure environment, no leaking when you pouring water into valve.