Dual Plate Wafer Type Check Valve
TC0
Non return valve,dual check valve, wafer check valve, duo check valve, double disc check valve, folding Disc Check Valves, Twin disc check valve, Twin plate check valve
The dual plate wafer type check valve are manufactured in accordance with API, ASTM, ANSI, JIS, AWWA, ISO or other international standards.
It is economical on installation and maintenance because installation is simple.
It is ideal type for cost saving.
Our delivery for fast delivery is in 3-7 days. (Depends on our current stock.)
We have the ability to design and our own molds. If you have special dimension, we can make customized check valve.
A check valve, non-return valve (NRV) or one-way valve is a valve that normally allows fluid (liquid or gas) to flow through it in only one direction. Simply put, a check valve allows flow in one direction and automatically prevents back flow (reverse flow) when fluid in the line reverses direction.
Check valve are one of the few self-automated valves that do not require assistance to open and close. Unlike other valves, they continue to work even if the plant facility loses air, electricity, or the human being that might manually cycle them.
Check valves work automatically and most are not controlled by a person or any external control; accordingly, most do not have any valve handle or stem.
Check valves are found everywhere, including the home. If you have a sump pump in the basement, a check valve is probably in the discharge line of the pump. Outside the home, they are found in virtually every industry where a pump is located.
There are various types of check valves used in a wide variety of applications. Basically, check valve is doing the function of avoiding reverse flow no matter what the type is.
Features
Dual plate check valves is simple and compact, long life and high reliability.
Variety of Body Designs Available - Wafer Type, Lug Type ,Double Flange Type and Soild lug type.
Wafer body valves are designed with flangeless bodies with short face-to-face dimensions per API 594
Duo check Valves are clamped between mating flanges which are connected by studs(bolt) and nuts.
Water Hammer Prevention.
Non Slamming.
Simplicity installation.
Abundance inventory and fast delivery.
Retail acceptable.
Many special material can be chosen, basically, we usually have CI/DI/WCB/CF8/CF8M material, besides of that, if you need CF3M/ Duplex/Super Duplex, we have some of it in stock. On the other hand, we can do CN7M/ Monel/ Hastelloy C etc.…, however, depend on your quantity, it will need MOQ probability.
Beautifully packaged:
Small size packed by carton box, and show material clearly outside
Big size packed by special plastic wrap, reduce the impact to a minimum.
Customized special valve.
Nonscheduled development and design new type.
Specification
Size: 1.5" ~ 60" (DN40 - DN1500)
Pressure Rating For ASME: 125# ~ 2500# Suit For ASME / MSS / API Flange
Pressure Rating For ISO: PN10 ~ PN40 Suit For ISO Flange
Pressure Rating For JIS: 5K ~ 20K Suit For JIS Flange
Another Flange Standard: BS10 TABLE E / AS2129 TABLE E / AWWA C207
Material:CI,DI,WCB,CF8,CF8M,ALBC3,A8904A(MOQ)
Designed in accordance with API 594.
End Connection: Wafer, Lugged (TC6, TC9), Flanged (TC4)
(Other flange connection please contact Taiwan Valves Centre Co., Ltd.)
*Technical information is only for reference. Taiwan Valves Centre Co., Ltd. reserves the right to change without previous notice.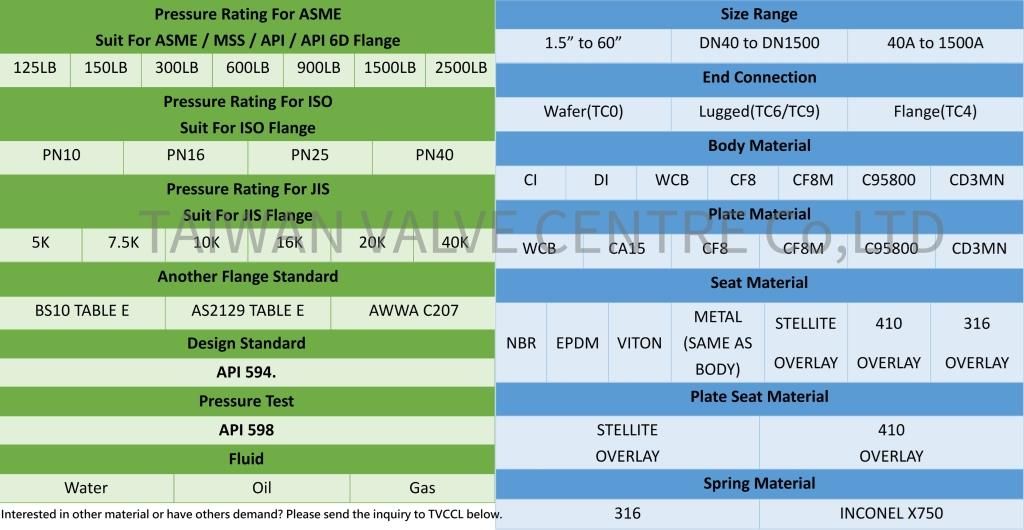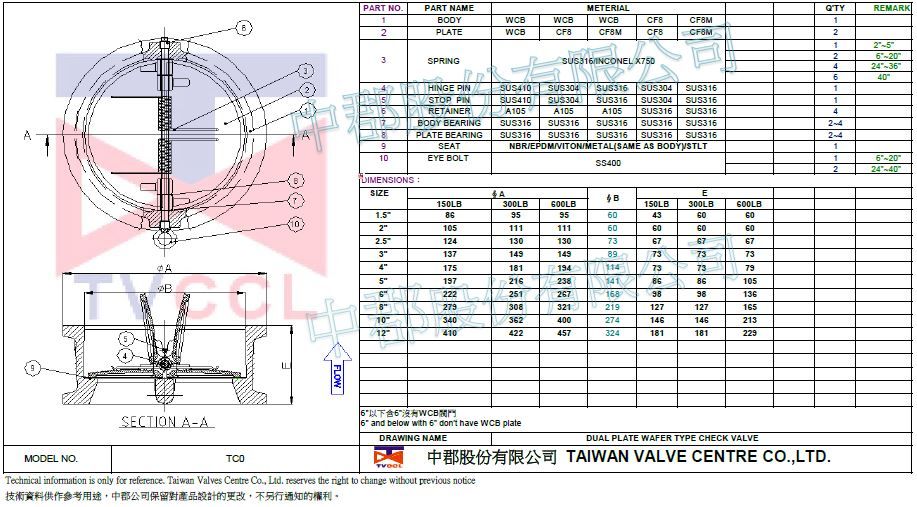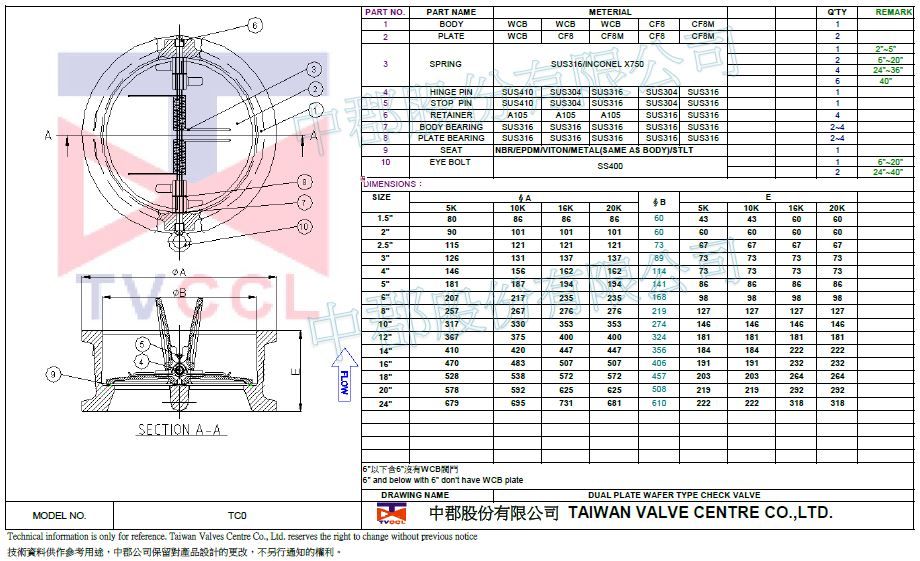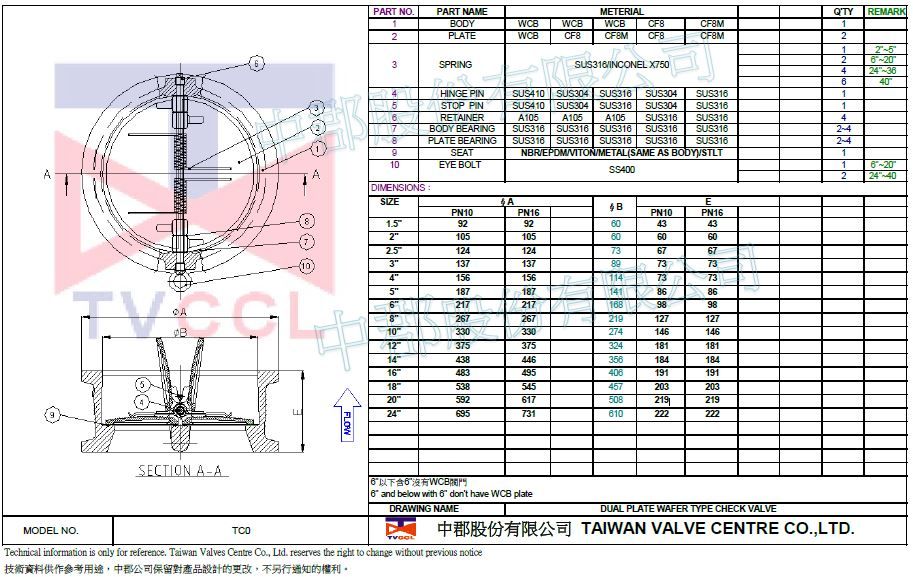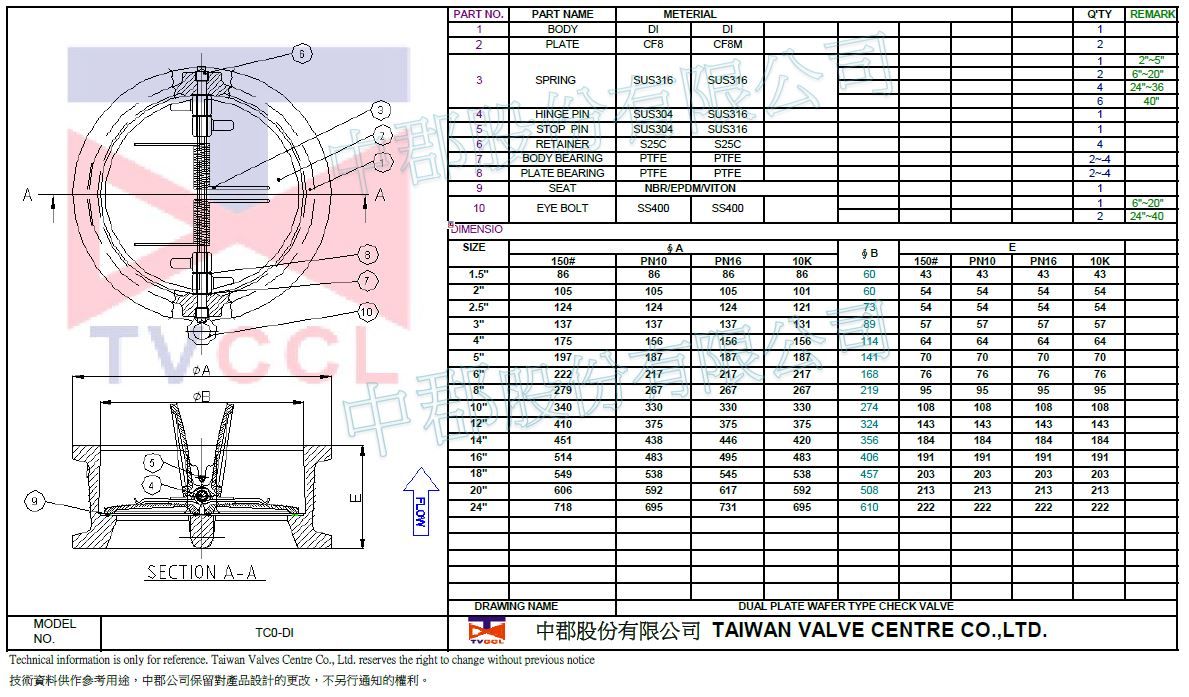 Applications
Dual plate check valves widely used for the basic piping, water, and various piping. For example, Fossil, Nuclear Cogeneration Power. Refining. Pulp & Paper. Mining. Marine. Petrochemicals. Offshore. LNG Cryogenics. Water. Wastewater. Chemical. Aerospace industry. Power Plant. Solar power industry. Reservoirs. TVCCL Dual-plate check valves which can be used in many fields with different uses.
Dual Plate check valves are also available for general residential use, such as high buildings, apartment, agricultural irrigation, water pipelines, compressors, blowers, pumping pumps, filters, dryers, chillers, boiler systems, refrigerating air conditioning systems, ventilation pipes, pumping motors, sewage, power stations, electronics factories, fire equipment, chemical research, medical equipment, laboratory, ship yachts, major domestic and foreign engineering, factories, etc.
Double plate check valve, a multi-purpose check valve, can be flexibly mounted on horizontal and vertical piping without any impact.
More Knowledge about TVCCL valve:
TVCCL check valve made of selected materials, each valve we made can offer the material certificate which according to BS EN 10204 3.1. Under the normal using situation, we can guarantee the TVCCL valve is more durable than the other manufacturers. And the performance is more reliable and practical. Using check valve under normal situation all can achieve the non-return effect. However, if the pipeline installation distance is less than 6~8 times the size of the valve, the life of the check valve may be shortened or the valve body and parts may be damaged.
More Knowledge about dual plate check valve:
The check valve dual plate wafer type is an automatically opened valve that only allows the medium to flow in the same direction and prevents reverse flow. Automatically open and close when there has pressure generated, no need to handle or other actuation control. Under the action of the pressure flowing in the same direction, the discs are opened, so that the medium can flow in the pipeline; conversely, when the medium flows in the opposite direction, the pressure generated by the medium and the weight of the valve discs act on the seat. When the valve is closed, the check valve will cut off the flow, thereby achieving the effect of backstop and media backflow. Its main function is to prevent backflow of the medium, prevent the pump and drive motor from reversing, and release the container medium. TVCCL's check valve is quickly closed due to the valve flap, which can quickly achieve the effect of the backstop and can effectively reduce the occurrence of water hammer.
Related Products

TC4

Because the check valve flange type doesn't tapping on the flange hole, installation of double...

Details

TC6

The dual plate lug type check valve only takes 15-20 minute completely dissemble and reassemble...

Details

TC9

Double disc lug type check valves are designed to ASME, JIS, ISO, AWWA...etc. specifications...

Details

Files Download

FAQ
Best product catalog
Please download it to know dual check information.
Download
Have Any Product Inquiry?
Call Us :
886-3-3893008 / 3893028
Thank You.
More Details
Dual Plate Wafer Type Check Valve - Non return valve,dual check valve, wafer check valve, duo check valve, double disc check valve, folding Disc Check Valves, Twin disc check valve, Twin plate check valve | Made in Taiwan Dual Plate Check Valves Manufacturer | Taiwan Valve Centre Co., Ltd.
Located in Taiwan since 1998, Taiwan Valve Centre Co., Ltd. has been a dual plate check valve manufacturer with all the valves sold to 1,500 clients in 80 countries worldwide. Their main valve products, including Dual Plate Wafer Type Check Valve, dual plate check valves, dual plate full lining type, retainerless check valves, bypass check valves, short and long wafer check valves and spring wafer type for industries, such as oil, shipbuilding, seawater desalination, cooling system and nuclear.
TVCCL has a competitive pricing, reliable quality product and excellent after-sales support, well-down packing. We have received good reputation as being a well-known supplier in supplying reliable quality and competitive price check valves from customers. 20 years of experiences in producing dual plate check valve, excellent after-sales support, OEM / ODM, oil industry, shipbuilding, seawater desalination, cooling system, nuclear industry.
TVCCL, TAIWAN VALVE has been offering customers high-quality and durable industrial check valves for any applications since 1998, both with advanced technology and 25 years of experience, TVCCL, TAIWAN VALVE ensures each customer's demands are met.